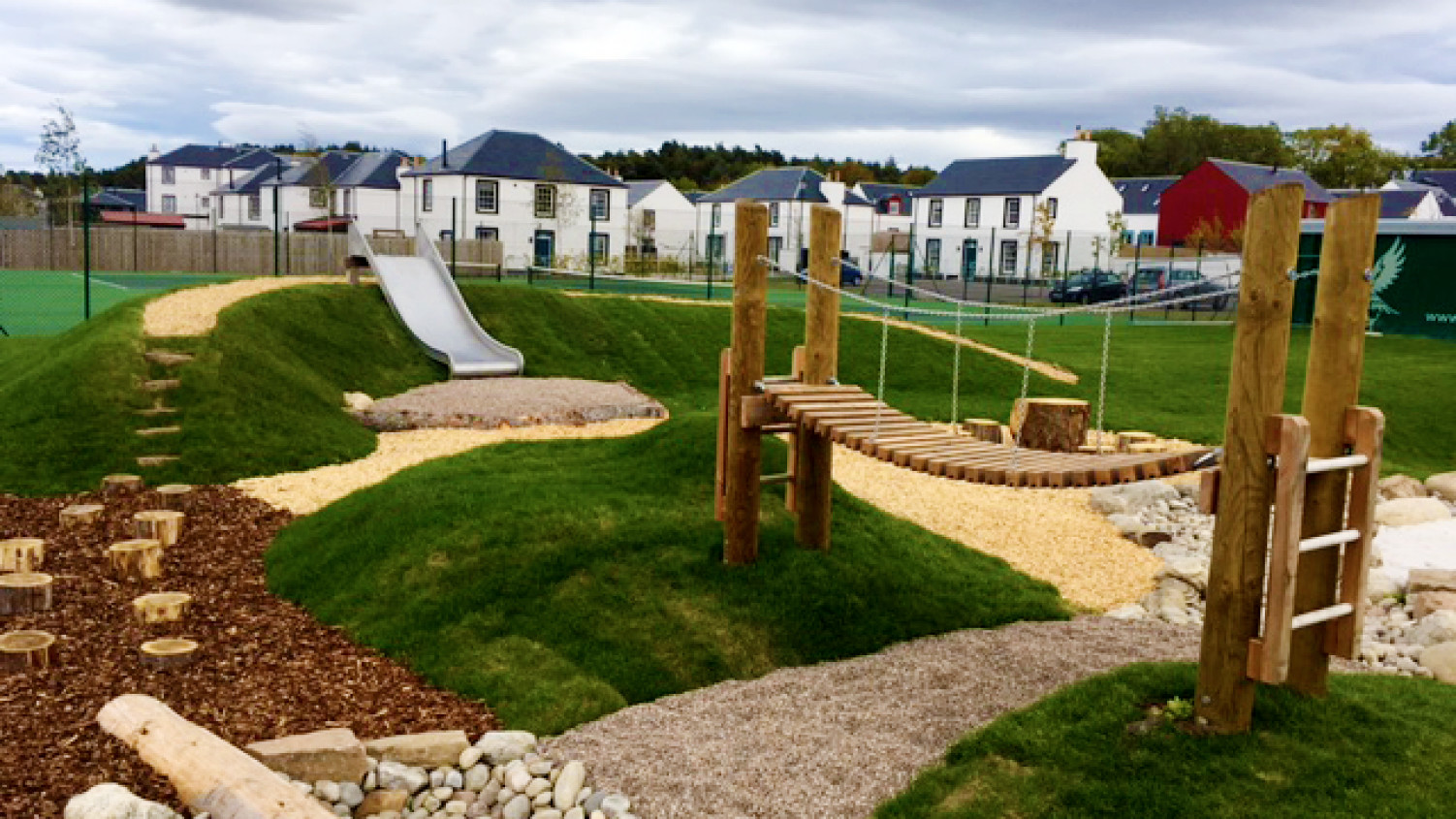 Moray Estates
Tornagrain, Scotland
Selected Case Study
Case Studies
Timberplay Scotland worked with developer Moray Estates, at their new town 'Tornagrain'. Located between Inverness and Nairn, Tornagrain is a forward-thinking new town development which over time will see the creation of a whole new community.
Offering a wide range of housing types and with high levels of quality throughout the early stages of the development, it's easy to see why people are beginning to choose Tornagrain as their new home. We recommend a visit to the Tornagrain Instagram page for some lovely images!
Moray Estates demonstrated their forward-thinking approach by talking to us about their first play area even before the first residents moved in. By taking this approach with much of the supporting infrastructure, Moray Estates have ensured that a sense of community is immediately prevalent.
We advised on a suitable location for the small play area, which is close to the current community focal point of tennis court, bus stop, sales office and community led café and meeting point. A more interesting site next to was selected over a flat space, which allowed us to make use of landforms which immediately increased Play Value.
With a modest budget, we advised on three key play pieces from Richter Spielgerate – a Nest Swing, Suspension Bridge and Embankment Slide. The Nest Swing and Slide were chosen for their inclusive nature, and the Suspension Bridge offers climbing and great role play opportunities. As part of our added value and design led approach to play, we also delivered a Landscape Layout for the play area, demonstrating how best to utilise the space and equipment to dramatically increase play value and create a friendly and welcoming atmosphere.
Moray Estates decided to use our design as a guide, and have done a great job at enhancing our ideas and have produced a tremendous play area at Tornagrain. Taking on board our advice of using a mixture of natural play surfaces, the play area incorporates Play Bark, Grass, Play Sand and even Play Gravel. These materials in combination with the Richter equipment and wider landscape ensures that children and their carers are connected to the natural elements and that play is non-prescriptive. These are vital components for the development of children.
Nicole Petrie of Moray Estates said, "Working with Timberplay Scotland was really helpful. Harry and Mark used all of their expertise and knowledge to advise us on the most suitable location for our first play area, as well as helping to narrow down the equipment suggestions.
Their support and advice was excellent throughout the process, helping us during construction when we needed it, but also allowing us to take things in our own direction. I feel like I am now better prepared for the next stages of our play developments, in terms of my own skills and knowledge, and I will without doubt look forward to working with Timberplay Scotland and Richter again. In choosing the Richter product, I am entirely confident that this has provided us with the quality to match what we are trying to achieve across the development."
Mark Grimshaw, from Timberplay Scotland added, "The natural play area that Moray Estates have delivered at Tornagrain is a credit to their overall approach to the wider development. At the very centre of the play area are the needs of the children of Tornagrain, and the play space offers them excellent opportunities to re-engage with the natural environment through play. It has been a pleasure to work with Moray Estates and we hope that we can continue this positive relationship as Tornagrain and its community develop."
"In choosing the Richter product, I am entirely confident that this has provided us with the quality to match what we are trying to achieve across the development"
Nicole Petrie, Moray Estates